Our company
For over 100 years, Church & Dwight Canada Corp. has offered trusted solutions for the everyday needs of Canadians.
Church & Dwight Canada Corp. is a subsidiary of Church & Dwight Co. Inc. — a leading manufacturer and distributor of health and beauty products, industrial and household cleaners, over-the-counter medicines, specialty chemicals and animal nutrition products.
The head office of Church & Dwight Canada Corp. handles marketing and distribution and is located in Mississauga, Ontario. Quality control and assurance, as well as research and development are coordinated through our offices in Montreal.
Montreal is also the location of a 155,000 square foot manufacturing site. The plant is equipped with a wide range of processing and packaging equipment used to manufacture Church & Dwight Canada's OTC health care products, as well as some of our personal care & family planning products.
History
Church & Dwight Co. Inc. is the world's largest producer of sodium bicarbonate, otherwise known as Baking Soda. Over 165 years ago in 1846, two New Englanders, John Dwight and his brother-in-law Dr. Austin Church, took the first step in putting baking soda into nearly every kitchen throughout North America.
John Dwight and Dr. Austin Church started their first factories in their kitchens by putting Baking Soda into paper bags.
In 1896, the descendants of these founders consolidated their interests under the name of Church & Dwight Co., Inc.
The company officially entered the Canadian market in 1904, under the name Church & Dwight Limited, a wholly owned subsidiary of its American parent company. While Church & Dwight the company continued to focus on developing its range of consumer and specialty products, it also grew through strategic acquisitions, adding such well-known brands as TROJAN™ Condoms, NAIR™, ARRID™, RUB™A535™, and FIRST RESPONSE™ pregnancy test kits to the Church & Dwight family.
Today the use of sodium bicarbonate is no longer confined to the kitchen. It is used throughout the house, in every phase of housekeeping and personal hygiene. ARM & HAMMER™ Baking Soda, which was first prepared in a New England village, now is used the world over.
Our logo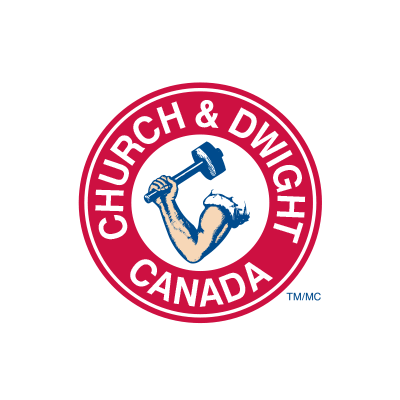 The ARM & HAMMER™ symbol was first used in the early 1860s by James A. Church, the son of Dr. Austin Church, one of the founders of our business. James A. Church operated a spice and mustard business known as the Vulcan Spice Mills.
The ARM & HAMMER™ symbol represents the arm of Vulcan, the Roman god of fire, with hammer in hand about to descend on an anvil.
Originally used exclusively on our Baking Soda packages, the trademark now identifies an array of quality consumer and specialty products in use throughout the world.